New Jersey Minimum Wage and Family Leave Act Changes
Minimum Wage
The minimum wage in New Jersey will begin increasing this July and continue until it reaches $15 per hour in 2024. The first increase will take place on July 1 and will raise the minimum wage from the current $8.85 per hour to $10.00 per hour. The base wage for tipped employees will also increase, through 2022. The increase schedule is as follows, with tipped employee base wages in parenthesis:
July 1, 2019: $10 ($2.63)
Jan 1, 2020: $11 ($3.13)
Jan 1, 2021: $12 ($4.13)
Jan 1, 2022: $13 ($5.13)
Jan 1, 2023: $14 (No change)
Jan 1, 2024: $15 (No change)
Small Employers, Seasonal Workers, and Agricultural Workers
The schedule for reaching a $15 minimum wage is extended until 2026 for employers with five or fewer employees, as well as for seasonal non-agricultural workers (those working only May 1 through Sep 30). The increase schedule for small employers and seasonal workers is as follows:
Jan 1, 2020: $10.30
Jan 1, 2021: $11.10
Jan 1, 2022: $11.90
Jan 1, 2023: $12.70
Jan 1, 2024: $13.50
Jan 1, 2025: $14.30
Jan 1, 2026: $15.00
For agricultural employees, the schedule is extended through 2027:
Jan 1, 2020: $10.30
Jan 1, 2021: No change
Jan 1, 2022: $10.90
Jan 1, 2023: $11.70
Jan 1, 2024: $12.50
Jan 1, 2025: $13.40*
Jan 1, 2026: $14.20*
Jan 1, 2027: $15*
All the wage increases can be viewed by date in this chart, provided by the New Jersey Department of Labor and Workforce Development.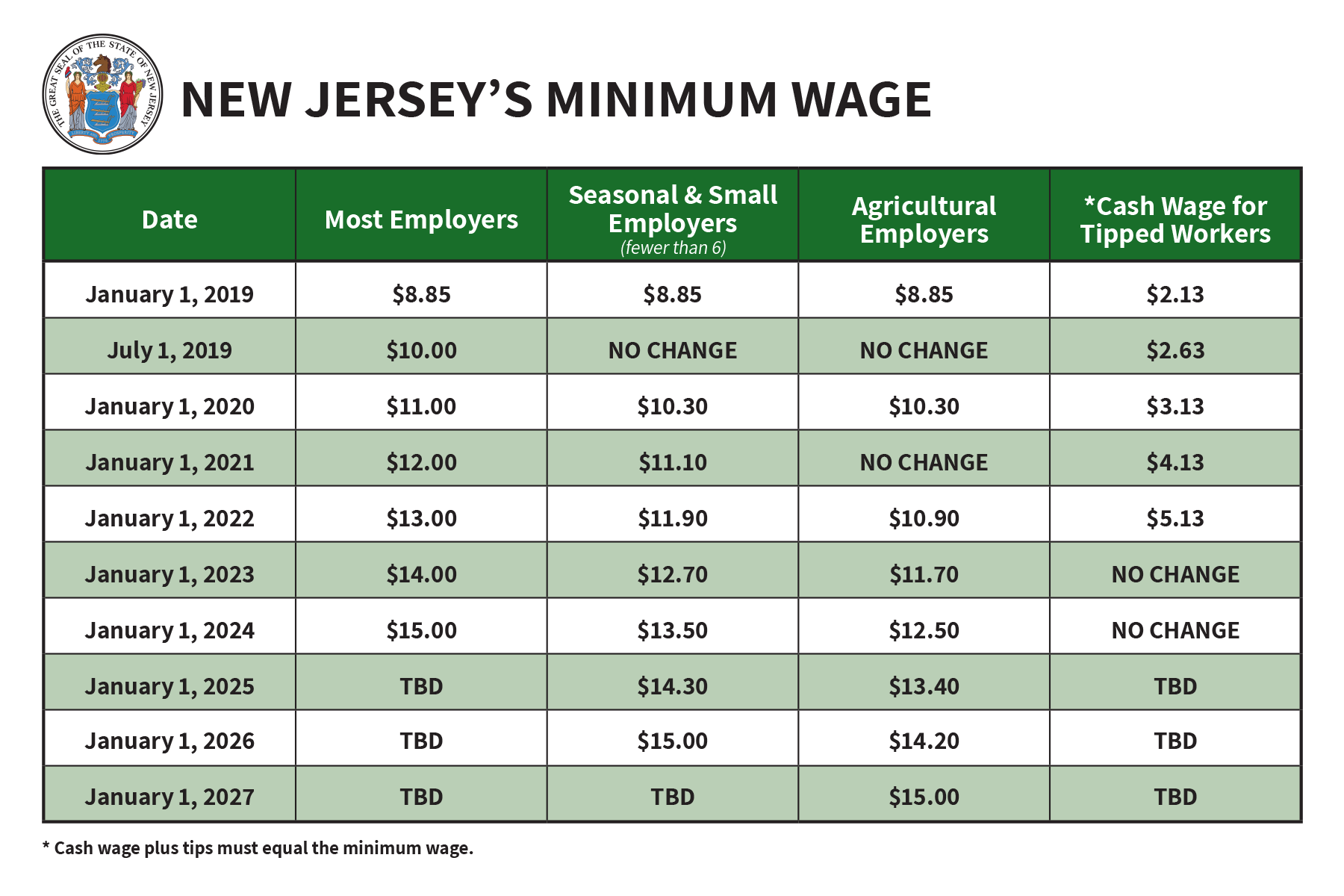 *These increases are tentative; whether or not they take effect will be decided by March 31, 2024.
Training Wages
Beginning in 2020, employers will be allowed to pay a "training wage" equal to 90% of the applicable state minimum wage for the first 120 hours of work that an employee performs.
Family Leave Act Now Applies to Smaller Employers
Beginning June 30, 2019, the New Jersey Family Leave Act (NJFLA) will apply to employers with 30 or more employees nationwide. The NJFLA provides job-protected leave for eligible employees who need to care for a family member. Here are some basics of the law:
Who is eligible? An employee is eligible for leave if they have worked for the employer for one year and performed at least 1000 hours of work in the previous 12 months.
How much leave is available? Each eligible employee may take up to 12 weeks of leave during a 24-month period.
What may leave be used for? Bonding with a newborn or newly placed foster child within the first 12 months of birth or placement or caring for a family member with a serious health condition.
Is there a notice requirement? All employers covered by the law must display this poster in a place where it is easily visible to all employees. They must also provide notice of rights under the law through a handbook policy (if they have a handbook or other policy document), or by giving each employee a copy of the poster individually.
Other benefits expansions that take effect June 30, 2019, include:
The definition of parent will include foster parents and those who became parents via gestational carrier.
The definition of family member will expand to include siblings, grandparents, grandchildren, parents-in-law, blood relatives, and any other individual with whom the employee has a close association which is the equivalent of a family relationship. (Parents, children, and spouses were already covered.)
Employers will only be able to require 15 days' notice, instead of 30, for an employee to take intermittent leave to care for a family member.
New parents will be entitled to intermittent leave for bonding (previously it was subject to employer-approval).
This Fact Sheet, created by the NJ Office of the Attorney General, provides a helpful overview of the law. However, it does not yet incorporate the changes that take effect June 30. Additional information can also be found on the HR Support Center by searching NJFLA.
Employers previously covered by the law should update their leave policies to incorporate the new definitions and benefits. Employer with 30-49 employees should create and distribute a policy that covers the Family Leave Act, as well as train managers on the benefits provided under the law.
Our HR Pros are ready to help
Have any questions about this communication?
Our team of HR Professionals is ready to help you.
Over the phone at:
(877) 880-4772

Online via your
HR Support Center

Available
8am to 8pm EST
Anchor Payroll
350 Clark Drive
Suite 310
Mt Olive, NJ 07828
Additional Contacts
Phone: 800-660-7089
Email: sales@anchorpays.com
Copyright ©2019 All Rights Reserved – Terms and Legal Conditions. You are receiving this newsletter as a service of your HR Support Center.
Legal Disclaimer: The HR Support Center is not engaged in the practice of law. The content in this email should not be construed as legal advice, and does not create an attorney-client relationship. If you have legal questions concerning your situation or the information you have obtained, you should consult with a licensed attorney. The HR Support center cannot be held legally accountable for actions related to its receipt.