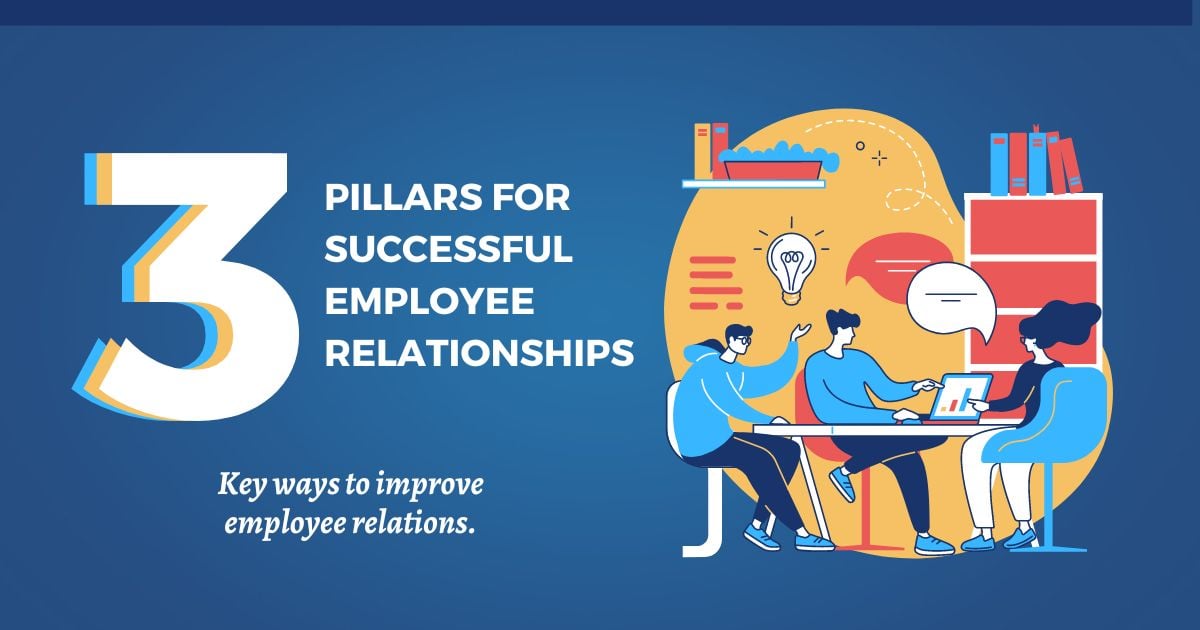 Think of all the employee-related relationship problems you've observed and experienced. Whether you considered them as trivial annoyances or business-killers, such problems often result from three factors: poor knowledge, poor communication, and poor recognition. By recognizing these factors and understanding how to avoid them, you can dramatically improve your employee relations.
Knowledge

As the employer, you need to know your legal HR obligations and accountabilities or, at the very least, the resources at your disposal to get such information. Staying up-to-date with current employment laws and applying best practices in areas such as performance management and conflict resolution enables a manager to become a more effective leader. If ever an employee feels isolated, claims of unfair treatment can quickly erupt—a situation all managers need to know how to quickly and effectively diffuse and resolve. Using a trusted online resource or consulting a business peer also can help significantly improve one's managerial skills and confidence.
Understanding the limitations of your role as business owner, manager, or HR point person is equally important. The contribution you can make is to blend knowledge of legal HR issues with your awareness of the business initiatives and goals. Towards becoming a great leader, though, the manager must understand the diverse needs of his or her employees and develop a shared environment that encourages and respects dialogue and accountability.

Communication

Illustrating the relationship among effective communication, employee turnover, and financial performance, the 2005 / 2006 Watson Wyatt Communication ROI Study identifies effective communication as a leading indicator of an organization's financial performance.

Some of the study's findings include:
Companies with highly effective communication are 20% more likely to report lower turnover rates.
From 2000 to 2004, shareholder returns for organizations with very effective communication were over 57% higher than those for organizations with less effective communication.
Companies communicating effectively retain a 19.4% higher market premium than businesses that do not.
Obviously, knowledge stored only in your brain does little good for the productivity and morale of your staff. Constantly update them with important events and discussions to help connect the value of their work to the company's big picture. In turn, solicit feedback; your frontline employees likely know best how feasible a seemingly great idea may actually work in the trenches. They also may be the first to spot looming problems or new opportunities for improvement. Asking employees for feedback makes them feel like valuable members and encourages them to take a greater interest in the business operations.

Recognition

One can get caught up in the day-to-day routine of trying to complete tasks. Despite these daily demands, pay attention to and openly acknowledge key efforts and milestones reached. Whether involving a simple "thank-you" or a structured rewards system, some sort of appreciative action on your part provides a simple morale booster to help keep the work pace moving forward.

Putting It All Together

Staff involvement is critical to successful employee relationships. While having a comprehensive business communication and recognition program is nice, your regular staff meeting is a fundamental vehicle for bringing the pillars for successful employee relations together.

Your staff meetings need to reinforce the guiding vision of the company and the related business objectives. Unfortunately, employees sometimes get so engrossed in their assigned areas that perceived gaps among peers widen. These meetings are not simply opportunities for bulletin updates; they help you get key information on how well your team is working together and performing. A couple starter questions to ask from each member are: 1) "Tell me about what you are working on." and 2) "What challenges have you faced or foresee facing?" Pay particular attention to the diverse perspectives and personalities of each team member. Your guidance will always play a critical part – keep asking probing questions to get to the root of the issue.

Inviting each employee to provide feedback, share observations, and recommend solutions increases inclusiveness and a stronger connection to the company. To minimize a potential gripe session, focus on discussing ways to improve. When appropriate, have the employee take ownership of a suggestion he or she offers. Depending on the scope of the activity, invite peers not only to comment but to volunteer direct efforts as well. For instance, ask the question: "How can we help support your idea?" or "What other resources do you think you'll need?" All the while, encourage the group to determine and agree to the criteria and timelines to help gauge progress.

Your employees are expected to make positive contributions impacting revenue, expense, time, market share, etc. When they do so, remember to share in the celebration of certain successes and milestones. Publicly recognizing and rewarding one's or a team's achievements lends a whole different level of satisfaction and respect to be working in your company.

After first acknowledging those going the "extra mile" during a staff meeting, you can then follow-up and…
Send a company-wide "well done" email or notice (even better…have the company's President / Owner do so)
Invite the employee or team to present their success story to Leadership or at an industry event
Designate a prime Employee of the Month parking spot
Host a lunch reception in the employee's or team's honor
Offer a monetary award (e.g. "on-the-spot" extra-mile effort bonus such as a gift certificate)
Allow the employee to "take the rest of the day off"
Develop a more formal employee recognition program (commonly bonus-based)
Ensure your Performance Review System accounts for specific individual and team goals.
Successful owners and managers truly understand how relating to their employees will affect their customers and ultimately their business. Regularly communicating information and acknowledging special contributions reinforce commitment and camaraderie. The more each employee understands the common goals, each other's roles, and the resources available, the less likely assumptions, confusion, and dissention will exist. As long as the successful and creative manager applies timely and appropriate ways to recognize and reward positive performance efforts and outcomes, the long-term health of the company will be much more secure.